BlooddyCase Review:
User Interface
The homepage of bloodycase looks simple, but it fits well with the theme of the page. The bright chests stand out against the dark background. The top has a colorful live drop banner, and the sides have a drop counter that shows how many items have been unlocked throughout the day. The site is easy to navigate, and it's easy to open skin cases. All you have to do is click on the box to see what's inside. And you can open it if you have money in your account. I like the way this platform is made. The dark colors go well with the simple theme and the glowing chests. It can connect you to more boxes than you might think.
Support
Their customer service is available only through a ticket system, and it should not take longer than 6 hours to receive an answer (which is rather standard for these kinds of services.) Another drawback is that platform does not have on-site Live chat to solve minor issues. However, they have a Steam group and sub-reddit which is highly active through the day. It's monitored by moderators regularly so there's more than one way to get in touch with them.
Games available on BloodyCase
Contract
You have to choose between two and ten skins to trade. In each mode, the minimum cost of skins needed to sign a contract is its own, starting at 50 cents. The coefficients also vary (from 1.2 to 10), which lets you know in advance how much the winning skin will cost on the low end and the high end.
Skin Upgrader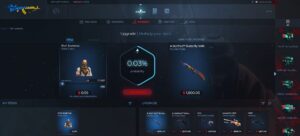 A CSGO skins upgrade is a chance to improve something you already have or trade it for something else you want. In a way, this is like a lottery, but you know for sure how likely you are to win. You should remember that your chances of winning go down if the item you want is more expensive than the skin you want to trade.
Case Opening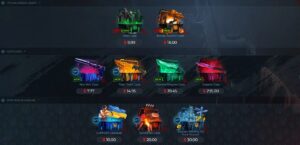 Case opening is a service from a third party that saves you a lot of time. You don't have to wait days or months for the case you want to drop in the game. Instead, you can pay for it to open on the CSGO cases site. This way, you will get one of the cool things inside. How cool and expensive your skin is depending on chance. But no matter what, you'll have a lot of fun opening a CS:GO case.
Customer Support
Unlike some case-betting sites out there, Bloodycase only has email support for their customers, rather than a site contact form. There are also no live chat options to help you clear things up with system administrators right away.
However, the email support they do have is responsive – Bloodycase is known for getting back to its users extremely quickly both in matters of site operations and in deposit/withdrawal questions. Since their system for storing and receiving money is already very fast, the addition of this reliable customer service system is an even bigger bonus.
BloodyCase gives you a chance to make your CSGO skins better right now.
BloodyCase will give you the best prices on CS:GO cases. We know you like bonuses, and you'll soon be able to get a lot of them. Everyone has a good chance of winning the best CS:GO skins.